DOT Drug Testing Mililani Town HI
DOT drug testing Mililani Town HI is provided by DOT Drug Testing USA for DOT required drug testing and alcohol testing at testing centers in Mililani Town HI and throughout the local area in compliance with Part 40 of the Department of Transportation's drug and alcohol compliance program. DOT drug testing Mililani Town HI centers are located within minutes of your home or office and same day service is available in most cases.
In addition, to our DOT drug testing Mililani Town HI services, DOT Drug Testing USA offers a DOT required random testing/consortium program, DOT supervisor training and DOT written drug policy.
To schedule a DOT drug test or join the DOT random testing program, Call (800) 579-8083.
DOT drug testing Mililani Town HI locations provide DOT pre-employment, random, post-accident, reasonable suspicion and return to duty testing.
If you are a CDL/Single operator or a small trucking company, DOT Drug Testing USA has a complete DOT complete compliance package which includes all the requirements to comply with part 40. Call DOT Drug Testing USA for details.
On the road and need a DOT drug or alcohol test? No worries!, Call DOT Drug Testing USA  and we can schedule your test at one of our many DOT drug testing locations nationwide (800) 579-8083. 
All DOT Drug Testing USA DOT drug testing Mililani Town HI centers utilize SAMHSA Certified laboratories and licensed Medical Review Officers as required by DOT regulations.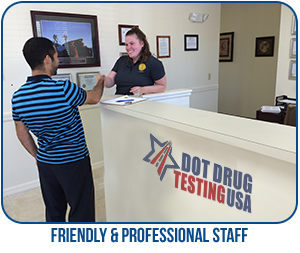 The U.S Department of Transportation (DOT) requires that all DOT regulated "safety sensitive" employees have on file a negative DOT pre-employment drug test result and be a member of a DOT approved random selection consortium. In addition, if a DOT regulated company has more than one "safety sensitive" employee, the employer must also have a written DOT drug and alcohol policy and an on-site supervisor must have completed supervisor training for reasonable suspicion of illegal drug use or impairment.
To be compliant with DOT regulations, a company's DOT drug and alcohol testing program must have the following components.
| | |
| --- | --- |
| | |
| Written Drug & Alcohol Policy | |
| | Designated Employer Representative |
| Substance Abuse Referral (SAP) | Federal Chain of Custody Forms |
| | |
The Department of Transportation (DOT) has specific drug and alcohol testing requirements for the following governmental agencies and DOT Drug Testing USA provides all testing services
| | |
| --- | --- |
| Federal Motor Carrier Safety Administration (FMCSA) | United States Coast Guard (USCG) |
| Federal Aviation Administration (FAA) | Pipeline and Hazardous Materials Safety Administration (PHMSA) |
| Federal Transit Administration (FTA) | Federal Railroad Administration (FRA) |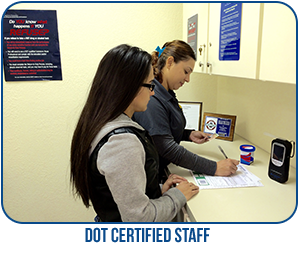 DOT regulated companies with multiple safety sensitive employees must also have an employee within the company who is assigned as the "designated employer representative" (DER). This is the person responsible for removing any DOT "safety sensitive" employee who is covered by 49 CFR Part 40 from performing a DOT safety sensitive position when a positive drug or alcohol test result has occurred or an employee has refused to take a required DOT test.
If you have recently become a DOT regulated company, within the next 18 months the Department of Transportation (DOT) will conduct a "new entrant" inspection to ensure that you are in compliance with all DOT regulations including the drug and alcohol testing requirements. If you are currently a DOT regulated company you are subject to regular inspections to ensure compliance.
Avoid DOT fines and penalties, be complaint with all DOT drug and alcohol testing regulations!
DOT Drug Testing USA can assist small, medium and large DOT companies in complying with all requirements of 49 CFR Part 40. Call our DOT drug testing Mililani Town HI centers Today!
Become DOT Compliant Today!
DOT Drug Testing USA 
(800)579-8083
Did you Know?
Mililani is a city located near the center of the island of Oʻahu in Honolulu County, Hawaii, United States. It consists of two census-designated places, Mililani Town, with a population of 27,629 at the 2010 census, and Mililani Mauka, with a 2010 census population of 21,039. Mililani Town is located at 21°26′46″N 158°00′51″W, near the center of Oʻahu Island, on the plateau or "central valley" between the two volcanic mountains that comprise the island. It is in the Central District and the City & County of Honolulu. The town is somewhat physically confined between the two large central Oʻahu gulches of Waikele and Kīpapa. Travelling north on either Kamehameha Highway (State Rte. 99) or Interstate H-2 connects the traveller with Wahiawā. Travelling south on either of these arteries connects to Waipiʻo. According to the United States Census Bureau, the Mililani Town CDP has a total area of 4.0 square miles (10.4 km2), of which 7,386 square meters (79,500 sq. ft.), or 0.07%, is water.
Mililani sits on former plantation fields owned by Castle & Cooke, which began planning for its development in the early 1960s under its Oceanic Properties subsidiary. Castle & Cooke's plan was to make Mililani Town a satellite city by using a prestigious group of planners and architects to satisfy Oahu's great pent-up demand for housing with a sensitively designed, affordable new community of a type unique in Hawaii. Architect and developer Al Boeke, who would later create the planned community of Sea Ranch, California, was the development director of Mililani. The first homes in Mililani went on sale on June 3, 1968. In 1976, the Interstate H-2 opened, cutting travel time from Mililani to Honolulu in half. In 1986, Mililani was named an All-America City. It is the only community in Hawaii ever to receive this distinction. Mililani is the third wealthiest zip code (96789) in the state of Hawaii, according to the 2006 ranking by Pacific Business News. Although it is largely a bedroom community for Honolulu, Mililani has its own commercial shopping centers, schools (such as Mililani High School), parks, community centers, and a golf course, and resembles a modern American suburban town. Mililani homeowners must pay dues to the Mililani Town Association, which enforces covenants and design standards, and provides recreational facilities including several pools.
The Mililani Golf Club is a par-72, 6,455-yard course that is open to the public. The Mililani Technology Park is a nearby campus-like park that is zoned for high-tech industries.The older portion of Mililani to the west of Interstate H-2 is known as Mililani Town. The newer portion of Mililani to the east of Interstate H-2 is known as Mililani Mauka. Almost all of Mililani's commercial and retail centers are in Mililani Town. A third region of Mililani is Launani Valley, a secluded, master planned development located below Mililani Tech Park on Wikao Street. The area was developed by Towne and contains a blend of townhome and single family units. On April 6, 1990, ground was broken for Mililani Mauka, a newer and more upscale community east of the Interstate H-2. The first homeowners moved into Mauka in 1992. In 2003 Mililani was designated as the pilot site for the City and County of Honolulu's curbside recycling program. In 2005, Money magazine named Mililani as one of the best places to live in the U.S. In 2006, Mililani Ike Elementary School first grade teacher Phyllis Nakama-Kawamoto was named Hawaii's American Star of Teaching by the U.S. Department of Education.