DOT Drug Testing Kansas
DOT Drug Testing Kansas is provided by DOT Drug Testing USA for DOT required drug testing and alcohol testing at testing centers throughout the State of Kansas in compliance with Part 40 of the Department of Transportation's drug and alcohol compliance program. DOT drug testing Kansas centers are located within minutes of your home or office and same day service is available in most cities.
In addition, to our DOT drug testing Kansas services, DOT Drug Testing USA offers a DOT required random testing/consortium program, DOT supervisor training and DOT written drug policy.
To schedule a DOT drug test in the State of Kansas or join the DOT random testing/consortium program, Call (800) 579-8083.
DOT drug testing Kansas locations provide DOT pre-employment, random, post-accident, reasonable suspicion and return to duty testing.
If you are a CDL/Single operator or a small trucking company, Heath Screenings USA has a complete DOT complete compliance package which includes all the requirements to comply with part 40. Call DOT Drug Testing USA for details.
On the road and need a DOT drug or alcohol test? No worries!, Call DOT Drug Testing USA  and we can schedule your test at one of our many DOT drug testing locations throughout the State of Kansas. (800) 579-8083. 
All DOT Drug Testing USA DOT drug testing Kansas centers utilize SAMHSA Certified laboratories and licensed Medical Review Officers as required by DOT regulations.
The U.S Department of Transportation (DOT) requires that all DOT regulated "safety sensitive" employees have on file a negative DOT pre-employment drug test result and be a member of a DOT approved random selection consortium.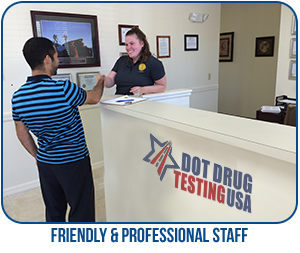 In addition, if a DOT regulated company has more than one "safety sensitive" employee, the employer must also have a written DOT drug and alcohol policy and an on-site supervisor must have completed supervisor training for reasonable suspicion of illegal drug use or impairment.
To be compliant with DOT regulations, a company's DOT drug and alcohol testing program must have the following components.
| | |
| --- | --- |
| | |
| Written Drug & Alcohol Policy | |
| | Designated Employer Representative |
| Substance Abuse Referral (SAP) | Federal Chain of Custody Forms |
| | |
The Department of Transportation (DOT) has specific drug and alcohol testing requirements for the following governmental agencies and DOT Drug Testing USA provides testing for:
| | |
| --- | --- |
| Federal Motor Carrier Safety Administration (FMCSA) | United States Coast Guard (USCG) |
| Federal Aviation Administration (FAA) | Pipeline and Hazardous Materials Safety Administration (PHMSA) |
| Federal Transit Administration (FTA) | Federal Railroad Administration (FRA) |
DOT regulated companies with multiple safety sensitive employees must also have an employee within the company who is assigned as the "designated employer representative" (DER).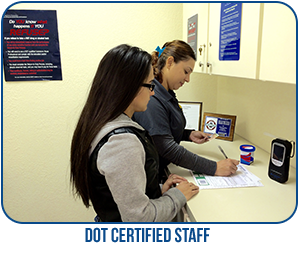 This is the person responsible for removing any DOT "safety sensitive" employee who is covered by 49 CFR Part 40 from performing a DOT safety sensitive position when a positive drug or alcohol test result has occurred or an employee has refused to take a required DOT test.
If you have recently become a DOT regulated company, within the next 18 months the Department of Transportation (DOT) will conduct a "new entrant" inspection to ensure that you are in compliance with all DOT regulations including the drug and alcohol testing requirements. If you are currently a DOT regulated company you are subject to regular inspections to ensure compliance.
DOT Testing and Non-DOT Testing by Employers
DOT Regulated employers may conduct additional drug testing separate from the required 5-Panel Urine Drug Test as required by Part 40. As an example, a DOT Regulated employer may have a company policy which requires a 10-Panel Drug Test, however, the DOT 5-Panel Test still is required in accordance with Part 40 and must be conducted separate from any other internal company drug policy requirements. Below is certain information regarding DOT Regulated companies and Non-DOT drug testing.
§ 40.13 How do DOT drug and alcohol tests relate to non-DOT tests? (a) DOT tests must be completely separate from non-DOT tests in all respects. (b) DOT tests must take priority and must be conducted and completed before a non-DOT test is begun. For example, you must discard any excess urine left over from a DOT test and collect a separate void for the subsequent nonDOT test. (c) Except as provided in paragraph (d) of this section, you must not perform any tests on DOT urine or breath specimens other than those specifically authorized by this part or DOT agency regulations. For example, you may not test a DOT urine specimen for additional drugs, and a laboratory is prohibited from making a DOT urine specimen available for a DNA test or other types of specimen identity testing. (d) The single exception to paragraph (c) of this section is when a DOT drug test collection is conducted as part of a physical examination required by DOT agency regulations. It is permissible to conduct required medical tests related to this physical examination (e.g., for glucose) on any urine remaining in the collection container after the drug test urine specimens have been sealed into the specimen bottles. (e) No one is permitted to change or disregard the results of DOT tests based on the results of non-DOT tests. For example, as an employer you must not disregard a verified positive DOT drug test result because the employee presents a negative test result from a blood or urine specimen collected by the employee's physician or a DNA test result purporting to question the identity of the DOT specimen. (f) As an employer, you must not use the CCF or the ATF in your non-DOT drug and alcohol testing programs. This prohibition includes the use of the DOT forms with references to DOT programs and agencies crossed out. You also must always use the CCF and ATF for all your DOT-mandated drug and alcohol tests.
Avoid DOT fines and penalties, be complaint with all DOT drug and alcohol testing regulations!
DOT Drug Testing USA can assist small, medium and large DOT companies in complying with all requirements of 49 CFR Part 40. Call our DOT drug testing Kansas centers Today!
Become DOT Compliant Today!
DOT Drug Testing USA 
(800)579-8083
Did you Know?
Kansas is a U.S. state located in the Midwestern United States. It is named after the Kansa Native American tribe which inhabited the area. The tribe's name is often said to mean "people of the wind" or "people of the south wind," although this was probably not the term's original meaning. Residents of Kansas are called "Kansans". For thousands of years, what is now Kansas was home to numerous and diverse Native American tribes. Tribes in the eastern part of the state generally lived in villages along the river valleys. Tribes in the western part of the state were semi-nomadic and hunted large herds of bison. Kansas was first settled by European Americans in the 1830s, but the pace of settlement accelerated in the 1850s, in the midst of political wars over the slavery issue. When it was officially opened to settlement by the U.S. government in 1854, abolitionist Free-Staters from New England and pro-slavery settlers from neighboring Missouri rushed to the territory to determine whether Kansas would become a free state or a slave state. Thus, the area was a hotbed of violence and chaos in its early days as these forces collided, and was known as Bleeding Kansas. The abolitionists eventually prevailed and on January 29, 1861, Kansas entered the Union as a free state. After the Civil War, the population of Kansas grew rapidly when waves of immigrants turned the prairie into farmland. Today, Kansas is one of the most productive agricultural states, producing high yields of wheat, corn, sorghum, and soybeans. Kansas is the 15th most extensive and the 34th most populous of the 50 United States.
Kansas is bordered by Nebraska on the north; Missouri on the east; Oklahoma on the south; and Colorado on the west. The state is divided into 105 counties with 628 cities, and is located equidistant from the Pacific and Atlantic oceans. The geographic center of the 48 contiguous states is located in Smith County near Lebanon. Until 1989, the Meades Ranch Triangulation Station in Osborne County was the geodetic center of North America: the central reference point for all maps of North America. The geographic center of Kansas is located in Barton County. Kansas is underlain by a sequence of horizontal to gently westward dipping sedimentary rocks. A sequence of Mississippian, Pennsylvanian and Permian rocks outcrop in the eastern and southern part of the state. The western half of the state has exposures of Cretaceous through Tertiary sediments, the latter derived from the erosion of the uplifted Rocky Mountains to the west. These are underlain by older Paleozoic and Mesozoic sediments which correlate well with the outcrops to the east. The northeastern corner of the state was subjected to glaciation in the Pleistocene and is covered by glacial drift and loess.
For millennia, the land that is currently Kansas was inhabited by Native Americans. The first European to set foot in present-day Kansas was Francisco Vásquez de Coronado, who explored the area in 1541. In 1803, most of modern Kansas was secured by the United States as part of the Louisiana Purchase. Southwest Kansas, however, was still a part of Spain, Mexico and the Republic of Texas until the conclusion of the Mexican-American War in 1848. From 1812 to 1821, Kansas was part of the Missouri Territory. The Santa Fe Trail traversed Kansas from 1821 to 1880, transporting manufactured goods from Missouri and silver and furs from Santa Fe, New Mexico. Wagon ruts from the trail are still visible in the prairie today. In 1827, Fort Leavenworth became the first permanent settlement of white Americans in the future state. The Kansas–Nebraska Act became law on May 30, 1854, establishing the U.S. territories of Nebraska and Kansas, and opening the area to broader settlement by whites. Kansas Territory stretched all the way to the Continental Divide and included the sites of present-day Denver, Colorado Springs, and Pueblo. Missouri and Arkansas sent settlers into Kansas all along its eastern border. These settlers attempted to sway votes in favor of slavery. The secondary settlement of Americans in Kansas Territory were abolitionists from Massachusetts and other Free-States, who attempted to stop the spread of slavery from neighboring Missouri. Directly presaging the American Civil War, these forces collided, entering into skirmishes that earned the territory the name of Bleeding Kansas.