DOT Drug Testing New Hampshire
DOT Drug Testing New Hampshire is provided by DOT Drug Testing USA for DOT required drug testing and alcohol testing at testing centers throughout the State of New Hampshire in compliance with Part 40 of the Department of Transportation's drug and alcohol compliance program. DOT drug testing New Hampshire centers are located within minutes of your home or office and same day service is available in most cities.
In addition, to our DOT drug testing New Hampshire services, DOT Drug Testing USA offers a DOT required random testing/consortium program, DOT supervisor training and DOT written drug policy.
To schedule a DOT drug test in the State of New Hampshire or join the DOT random testing/consortium program, Call (800) 579-8083.
DOT drug testing New Hampshire locations provide DOT pre-employment, random, post-accident, reasonable suspicion and return to duty testing.
If you are a CDL/Single operator or a small trucking company, Heath Screenings USA has a complete DOT complete compliance package which includes all the requirements to comply with part 40. Call DOT Drug Testing USA for details.
On the road and need a DOT drug or alcohol test? No worries!, Call DOT Drug Testing USA  and we can schedule your test at one of our many DOT drug testing locations throughout the State of New Hampshire. (800) 579-8083. 
All DOT Drug Testing USA DOT drug testing New Hampshire centers utilize SAMHSA Certified laboratories and licensed Medical Review Officers as required by DOT regulations.
The U.S Department of Transportation (DOT) requires that all DOT regulated "safety sensitive" employees have on file a negative DOT pre-employment drug test result and be a member of a DOT approved random selection consortium.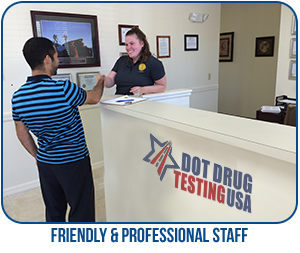 In addition, if a DOT regulated company has more than one "safety sensitive" employee, the employer must also have a written DOT drug and alcohol policy and an on-site supervisor must have completed supervisor training for reasonable suspicion of illegal drug use or impairment.
To be compliant with DOT regulations, a company's DOT drug and alcohol testing program must have the following components.
| | |
| --- | --- |
| | |
| Written Drug & Alcohol Policy | |
| | Designated Employer Representative |
| Substance Abuse Referral (SAP) | Federal Chain of Custody Forms |
| | |
The Department of Transportation (DOT) has specific drug and alcohol testing requirements for the following governmental agencies and DOT Drug Testing USA provides testing for:
| | |
| --- | --- |
| Federal Motor Carrier Safety Administration (FMCSA) | United States Coast Guard (USCG) |
| Federal Aviation Administration (FAA) | Pipeline and Hazardous Materials Safety Administration (PHMSA) |
| Federal Transit Administration (FTA) | Federal Railroad Administration (FRA) |
DOT regulated companies with multiple safety sensitive employees must also have an employee within the company who is assigned as the "designated employer representative" (DER).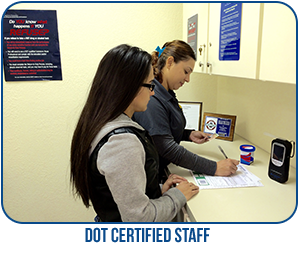 This is the person responsible for removing any DOT "safety sensitive" employee who is covered by 49 CFR Part 40 from performing a DOT safety sensitive position when a positive drug or alcohol test result has occurred or an employee has refused to take a required DOT test.
If you have recently become a DOT regulated company, within the next 18 months the Department of Transportation (DOT) will conduct a "new entrant" inspection to ensure that you are in compliance with all DOT regulations including the drug and alcohol testing requirements. If you are currently a DOT regulated company you are subject to regular inspections to ensure compliance.
DOT Testing and Non-DOT Testing by Employers
DOT Regulated employers may conduct additional drug testing separate from the required 5-Panel Urine Drug Test as required by Part 40. As an example, a DOT Regulated employer may have a company policy which requires a 10-Panel Drug Test, however, the DOT 5-Panel Test still is required in accordance with Part 40 and must be conducted separate from any other internal company drug policy requirements. Below is certain information regarding DOT Regulated companies and Non-DOT drug testing.
§ 40.13 How do DOT drug and alcohol tests relate to non-DOT tests? (a) DOT tests must be completely separate from non-DOT tests in all respects. (b) DOT tests must take priority and must be conducted and completed before a non-DOT test is begun. For example, you must discard any excess urine left over from a DOT test and collect a separate void for the subsequent nonDOT test. (c) Except as provided in paragraph (d) of this section, you must not perform any tests on DOT urine or breath specimens other than those specifically authorized by this part or DOT agency regulations. For example, you may not test a DOT urine specimen for additional drugs, and a laboratory is prohibited from making a DOT urine specimen available for a DNA test or other types of specimen identity testing. (d) The single exception to paragraph (c) of this section is when a DOT drug test collection is conducted as part of a physical examination required by DOT agency regulations. It is permissible to conduct required medical tests related to this physical examination (e.g., for glucose) on any urine remaining in the collection container after the drug test urine specimens have been sealed into the specimen bottles. (e) No one is permitted to change or disregard the results of DOT tests based on the results of non-DOT tests. For example, as an employer you must not disregard a verified positive DOT drug test result because the employee presents a negative test result from a blood or urine specimen collected by the employee's physician or a DNA test result purporting to question the identity of the DOT specimen. (f) As an employer, you must not use the CCF or the ATF in your non-DOT drug and alcohol testing programs. This prohibition includes the use of the DOT forms with references to DOT programs and agencies crossed out. You also must always use the CCF and ATF for all your DOT-mandated drug and alcohol tests.
Avoid DOT fines and penalties, be complaint with all DOT drug and alcohol testing regulations!
DOT Drug Testing USA can assist small, medium and large DOT companies in complying with all requirements of 49 CFR Part 40. Call our DOT drug testing New Hampshire centers Today!
Become DOT Compliant Today!
DOT Drug Testing USA 
(800)579-8083
Did you Know?
New Hampshire is a state in the New England region of the northeastern United States. It is bordered by Massachusetts to the south, Vermont to the west, Maine and the Atlantic Ocean to the east, and the Canadian province of Quebec to the north. New Hampshire is the 5th smallest by land area, and the 9th least populous of the 50 United States. In January 1776 it became the first of the British North American colonies to establish a government independent of Great Britain's authority and it was the first to establish its own state constitution. Six months later, it became one of the original 13 states that founded the United States of America, and in June 1788 it was the ninth state to ratify the United States Constitution, bringing that document into effect. Concord is the state capital, while Manchester is the largest city in the state. It has no general sales tax, nor is personal income (other than interest and dividends) taxed at either the state or local level. It is known for the New Hampshire primary, the first primary in the U.S. presidential election cycle. Its license plates carry the state motto: "Live Free or Die". The state's nickname, "The Granite State", refers to its extensive granite formations and quarries. Among prominent individuals from New Hampshire are founding father Nicholas Gilman, Senator Daniel Webster, Revolutionary War hero John Stark, editor Horace Greeley, founder of the Christian Science religion Mary Baker Eddy, poet Robert Frost, astronaut Alan Shepard, rock musician Ronnie James Dio, author Dan Brown, actor Adam Sandler, inventor Dean Kamen, and President of the United States Franklin Pierce. With some of the largest ski mountains on the East Coast, New Hampshire's major recreational attractions include skiing, snowmobiling, and other winter sports, hiking and mountaineering, observing the fall foliage, summer cottages along many lakes and the seacoast, motor sports at the New Hampshire Motor Speedway, and Motorcycle Week, a popular motorcycle rally held in Weirs Beach near Laconia in June. The White Mountain National Forest links the Vermont and Maine portions of the Appalachian Trail, and boasts the Mount Washington Auto Road, where visitors may drive to the top of 6,288-foot (1,917 m) Mount Washington.
New Hampshire is part of the New England region. It is bounded by Quebec, Canada, to the north and northwest; Maine and the Atlantic Ocean to the east; Massachusetts to the south; and Vermont to the west. New Hampshire's major regions are the Great North Woods, the White Mountains, the Lakes Region, the Seacoast, the Merrimack Valley, the Monadnock Region, and the Dartmouth-Lake Sunapee area. New Hampshire has the shortest ocean coastline of any U.S. coastal state, with a length of 18 miles (29 km), sometimes measured as only 13 miles. New Hampshire was home to the rock formation called the Old Man of the Mountain, a face-like profile in Franconia Notch, until the formation disintegrated in May 2003. The White Mountains range in New Hampshire spans the north-central portion of the state, with Mount Washington the tallest in the northeastern U.S. – site of the second-highest wind speed ever recorded – and other mountains like Mount Madison and Mount Adams surrounding it. With hurricane-force winds every third day on average, over 100 recorded deaths among visitors, and conspicuous krumholtz (dwarf, matted trees much like a carpet of bonsai trees), the climate on the upper reaches of Mount Washington has inspired the weather observatory on the peak to claim that the area has the "World's Worst Weather". In the flatter southwest corner of New Hampshire, the landmark Mount Monadnock has given its name to a class of earth-forms – a monadnock – signifying, in geomorphology, any isolated resistant peak rising from a less resistant eroded plain.
Major rivers include the 110-mile (177 km) Merrimack River, which bisects the lower half of the state north-south and ends up in Newburyport, Massachusetts. Its tributaries include the Contoocook River, Pemigewasset River, and Winnipesaukee River. The 410-mile (660 km) Connecticut River, which starts at New Hampshire's Connecticut Lakes and flows south to Connecticut, defines the western border with Vermont. The state border is not in the center of that river, as usually the case, but at the low-water mark on the Vermont side; meaning that the entire river along the Vermont border (save for areas where the water level has been raised by a dam) lies within New Hampshire. Only one town – Pittsburg – shares a land border with the state of Vermont. The "northwesternmost headwaters" of the Connecticut also define the Canadian border with New Hampshire. The Piscataqua River and its several tributaries form the state's only significant ocean port where they flow into the Atlantic at Portsmouth. The Salmon Falls River and the Piscataqua define the southern portion of the border with Maine. The Piscataqua River boundary was the subject of a border dispute between New Hampshire and Maine in 2001, with New Hampshire claiming dominion over several islands (primarily Seavey's Island) that include the Portsmouth Naval Shipyard. The U.S. Supreme Court dismissed the case in 2002, leaving ownership of the island with Maine. New Hampshire still claims sovereignty of the base, however. The largest of New Hampshire's lakes is Lake Winnipesaukee, which covers 71 square miles (184 km2) in the east-central part of New Hampshire. Umbagog Lake along the Maine border, approximately 12.3 square miles (31.9 km2), is a distant second. Squam Lake is the second largest lake entirely in New Hampshire. New Hampshire has the shortest ocean coastline of any state in the United States, approximately 18 miles (29 km) long. Hampton Beach is a popular local summer destination. About 7 miles (11 km) offshore are the Isles of Shoals, nine small islands (four of which are in New Hampshire) known as the site of a 19th-century art colony founded by poet Celia Thaxter, and the alleged location of one of the buried treasures of the pirate Blackbeard.