DOT Drug Testing St. George UT
DOT drug testing St. George UT is provided by DOT Drug Testing USA for DOT required drug testing and alcohol testing at testing centers in St. George UT and throughout the local area in compliance with Part 40 of the Department of Transportation's drug and alcohol compliance program. DOT drug testing St. George UT centers are located within minutes of your home or office and same day service is available in most cases.
In addition, to our DOT drug testing St. George UT services, DOT Drug Testing USA offers a DOT required random testing/consortium program, DOT supervisor training and DOT written drug policy.
To schedule a DOT drug test or join the DOT random testing program, Call (800) 579-8083.
DOT drug testing St. George UT locations provide DOT pre-employment, random, post-accident, reasonable suspicion and return to duty testing.
If you are a CDL/Single operator or a small trucking company, DOT Drug Testing USA has a complete DOT complete compliance package which includes all the requirements to comply with part 40. Call DOT Drug Testing USA for details.
On the road and need a DOT drug or alcohol test? No worries!, Call DOT Drug Testing USA  and we can schedule your test at one of our many DOT drug testing locations nationwide (800) 579-8083. 
All DOT Drug Testing USA DOT drug testing St. George UT centers utilize SAMHSA Certified laboratories and licensed Medical Review Officers as required by DOT regulations.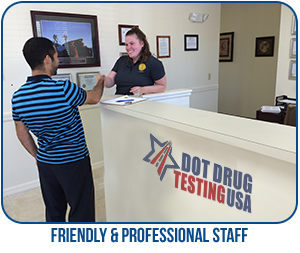 The U.S Department of Transportation (DOT) requires that all DOT regulated "safety sensitive" employees have on file a negative DOT pre-employment drug test result and be a member of a DOT approved random selection consortium. In addition, if a DOT regulated company has more than one "safety sensitive" employee, the employer must also have a written DOT drug and alcohol policy and an on-site supervisor must have completed supervisor training for reasonable suspicion of illegal drug use or impairment.
To be compliant with DOT regulations, a company's DOT drug and alcohol testing program must have the following components.
| | |
| --- | --- |
| | |
| Written Drug & Alcohol Policy | |
| | Designated Employer Representative |
| Substance Abuse Referral (SAP) | Federal Chain of Custody Forms |
| | |
The Department of Transportation (DOT) has specific drug and alcohol testing requirements for the following governmental agencies and DOT Drug Testing USA provides all testing services
| | |
| --- | --- |
| Federal Motor Carrier Safety Administration (FMCSA) | United States Coast Guard (USCG) |
| Federal Aviation Administration (FAA) | Pipeline and Hazardous Materials Safety Administration (PHMSA) |
| Federal Transit Administration (FTA) | Federal Railroad Administration (FRA) |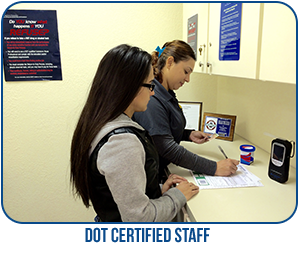 DOT regulated companies with multiple safety sensitive employees must also have an employee within the company who is assigned as the "designated employer representative" (DER). This is the person responsible for removing any DOT "safety sensitive" employee who is covered by 49 CFR Part 40 from performing a DOT safety sensitive position when a positive drug or alcohol test result has occurred or an employee has refused to take a required DOT test.
If you have recently become a DOT regulated company, within the next 18 months the Department of Transportation (DOT) will conduct a "new entrant" inspection to ensure that you are in compliance with all DOT regulations including the drug and alcohol testing requirements. If you are currently a DOT regulated company you are subject to regular inspections to ensure compliance.
Avoid DOT fines and penalties, be complaint with all DOT drug and alcohol testing regulations!
DOT Drug Testing USA can assist small, medium and large DOT companies in complying with all requirements of 49 CFR Part 40. Call our DOT drug testing St. George UT centers Today!
Become DOT Compliant Today!
DOT Drug Testing USA 
(800)579-8083
Did you Know?
St. George is a city located in the southwestern part of the U.S. state of Utah on the Utah–Arizona border, and the county seat of Washington County, Utah. It is the principal city of the St. George Metropolitan Statistical Area. The city lies in the northeastern-most part of the Mojave Desert, at the convergence of three distinct geological areas; the Mojave Desert, Colorado Plateau, and Great Basin. It is 118 miles (190 km) northeast of Las Vegas, Nevada and 303 miles (488 km) south-southwest of Salt Lake City along Interstate 15.
As of 2014, St. George had a population of 78,505. In 2005, St. George was the second fastest-growing metropolitan area in the United States, only after Greeley, Colorado. This trend continued through 2007, when growth slowed substantially due to the economic recession. However, growth has since greatly rebounded. In 2014, the St. George metropolitan area (defined as Washington County) had an estimated 151,948 residents.
The hub of southern Utah and Utah's Dixie, a nickname given to the area when Mormon pioneers grew cotton in the warm climate, St. George is the seventh-largest city in Utah and the most populous city in the state outside of the Wasatch Front. According to the U.S. Census Bureau, it had the distinction in the late 2000s of having the fastest white population growth in the nation. It has been observed that the conservative social culture of the region shows, on the one hand, friction between "business-driven conservatives" and "anti-illegal immigration social conservatives," and on the other, some tensions between Mormons (by far a majority of the population) and non-Mormons.