About
DOT Drug
Testing
USA
Thank You for visiting our website and inquiring about the DOT services offered by our company.
DOT Drug Testing USA is a nationwide company with local testing centers specializing in DOT Drug and Alcohol Testing, DOT Consortium Membership, DOT Physicals, DOT Supervisor Training, and Background Checks. Tests are administered utilizing urine, oral saliva (not yet authorized) DOT breath alcohol tests.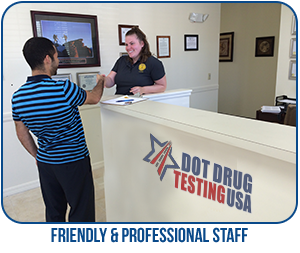 DOT Drug Testing USA provides full service Drug Free Work Place programs and TPA services to small, medium and large DOT regulated companies .With over 20 years of experience, the staff at DOT Drug Testing USA is certified and trained in all DOT Drug and Alcohol testing procedures for FMCSA, FAA, USCG, FTA, FRA, PHMSA.
With Drug Testing Centers and affiliated collection facilities throughout the United States, DOT Drug Testing USA is your "One Stop Shopping" source for pre-employment, random, reasonable suspicion, post-accident and return to duty testing provided in a courteous,cost effective and confidential manner.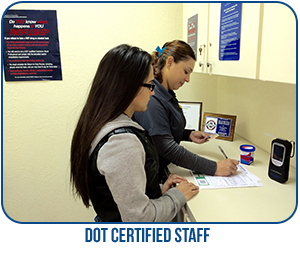 Providing exceptional customer service and being available when you need us is our Number One Priority and we look forward to serving the needs of our clients.