On Monday, Accredited Drug Testing made their 4th quarter selections for the Department Of Transportation Consortium (random drug testing program). As well as being actively enrolled in a random drug testing program, every employee of the DOT must also be enrolled in the nationwide consortium.
What Is A DOT Consortium?
A consortium is also known as a cooperative arrangement among groups or institutions, from same or different backgrounds, pulling their resources together to achieve one goal intended to benefit the group as a whole. 
A DOT Consortium is a random selection of DOT safety-sensitive employees governed under CFR Part 40. Under part 40, each employee must be enrolled in a drug and alcohol testing program. Being actively enrolled in a national DOT, Department Of Transportation Consortium is a standard requirement.
How Does It Work?
The Department Of Transportation National Consortium is a computer generated program that is completely neutral and non-biased. For this reason, it is considered a random drug testing program. The computer program then generates the CFR standard pull size.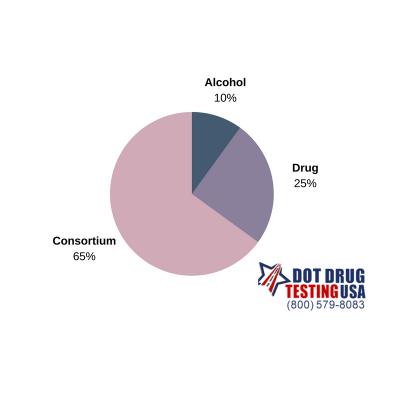 25 percent of the consortium is pulled for random drug testing, and 10 percent is pulled for alcohol testing. A company can not hold their own consortium and is encouraged to register with a drug testing company that is SANSA certified. 
What Happens If You Receive A Positive Test Result?
In order to be licensed to perform safety-sensitive tasks, an employee must successfully pass a DOT regulated drug or alcohol screening. If an employee is selected to take part in a drug test and refuses, it is recorded as a positive test result. This will result in immediate termination.
If an employer receives a positive test result from an employee, there are DOT regulated steps this employer must take. First, the employee must be taken off any safety-sensitive work duties immediately. An employer is not to wait for a letter from the medical examiner. The employee must be evaluated by a DOT qualified substance abuse professional. The employer is not required to pay for an employees evaluation or treatment. They are required to provide a list of all DOT qualified substance abuse professionals.
After completing the suggested treatment by a qualified DOT substance abuse professoinal, and having a follow-up evaluation an employee may be eligible to be re-licensed to work in a safety-sensitive environment. There are many factors that go into the re-qualification of an employee such as level of treatment, and the amount of dedication the employee has put into the process.
The DOT does not favor the employer, or employee. In all cases they remain completely neutral. All rules and regulations are governed by the best interest of the public, and their safety.