DOT Drug Testing Colorado
DOT Drug Testing Colorado is provided by DOT Drug Testing USA for DOT required drug testing and alcohol testing at testing centers throughout the State of Colorado in compliance with Part 40 of the Department of Transportation's drug and alcohol compliance program. DOT drug testing Colorado centers are located within minutes of your home or office and same day service is available in most cities.
In addition, to our DOT drug testing Colorado services, DOT Drug Testing USA offers a DOT required random testing/consortium program, DOT supervisor training and DOT written drug policy.
To schedule a DOT drug test in the State of Colorado or join the DOT random testing/consortium program, Call (800) 579-8083.
DOT drug testing Colorado locations provide DOT pre-employment, random, post-accident, reasonable suspicion and return to duty testing.
If you are a CDL/Single operator or a small trucking company, Heath Screenings USA has a complete DOT complete compliance package which includes all the requirements to comply with part 40. Call DOT Drug Testing USA for details.
On the road and need a DOT drug or alcohol test? No worries!, Call DOT Drug Testing USA  and we can schedule your test at one of our many DOT drug testing locations throughout the State of Colorado. (800) 579-8083. 
All DOT Drug Testing USA DOT drug testing Colorado centers utilize SAMHSA Certified laboratories and licensed Medical Review Officers as required by DOT regulations.
The U.S Department of Transportation (DOT) requires that all DOT regulated "safety sensitive" employees have on file a negative DOT pre-employment drug test result and be a member of a DOT approved random selection consortium.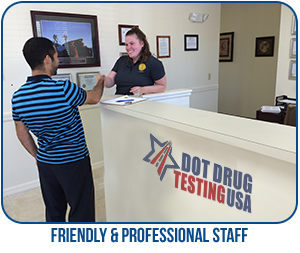 In addition, if a DOT regulated company has more than one "safety sensitive" employee, the employer must also have a written DOT drug and alcohol policy and an on-site supervisor must have completed supervisor training for reasonable suspicion of illegal drug use or impairment.
To be compliant with DOT regulations, a company's DOT drug and alcohol testing program must have the following components.
| | |
| --- | --- |
| | |
| Written Drug & Alcohol Policy | |
| | Designated Employer Representative |
| Substance Abuse Referral (SAP) | Federal Chain of Custody Forms |
| | |
The Department of Transportation (DOT) has specific drug and alcohol testing requirements for the following governmental agencies and DOT Drug Testing USA provides testing for:
| | |
| --- | --- |
| Federal Motor Carrier Safety Administration (FMCSA) | United States Coast Guard (USCG) |
| Federal Aviation Administration (FAA) | Pipeline and Hazardous Materials Safety Administration (PHMSA) |
| Federal Transit Administration (FTA) | Federal Railroad Administration (FRA) |
DOT regulated companies with multiple safety sensitive employees must also have an employee within the company who is assigned as the "designated employer representative" (DER).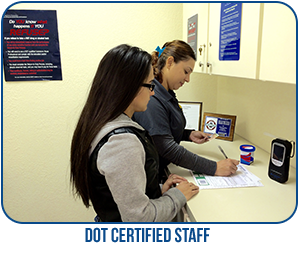 This is the person responsible for removing any DOT "safety sensitive" employee who is covered by 49 CFR Part 40 from performing a DOT safety sensitive position when a positive drug or alcohol test result has occurred or an employee has refused to take a required DOT test.
If you have recently become a DOT regulated company, within the next 18 months the Department of Transportation (DOT) will conduct a "new entrant" inspection to ensure that you are in compliance with all DOT regulations including the drug and alcohol testing requirements. If you are currently a DOT regulated company you are subject to regular inspections to ensure compliance.
DOT Testing and Non-DOT Testing by Employers
DOT Regulated employers may conduct additional drug testing separate from the required 5-Panel Urine Drug Test as required by Part 40. As an example, a DOT Regulated employer may have a company policy which requires a 10-Panel Drug Test, however, the DOT 5-Panel Test still is required in accordance with Part 40 and must be conducted separate from any other internal company drug policy requirements. Below is certain information regarding DOT Regulated companies and Non-DOT drug testing.
§ 40.13 How do DOT drug and alcohol tests relate to non-DOT tests? (a) DOT tests must be completely separate from non-DOT tests in all respects. (b) DOT tests must take priority and must be conducted and completed before a non-DOT test is begun. For example, you must discard any excess urine left over from a DOT test and collect a separate void for the subsequent nonDOT test. (c) Except as provided in paragraph (d) of this section, you must not perform any tests on DOT urine or breath specimens other than those specifically authorized by this part or DOT agency regulations. For example, you may not test a DOT urine specimen for additional drugs, and a laboratory is prohibited from making a DOT urine specimen available for a DNA test or other types of specimen identity testing. (d) The single exception to paragraph (c) of this section is when a DOT drug test collection is conducted as part of a physical examination required by DOT agency regulations. It is permissible to conduct required medical tests related to this physical examination (e.g., for glucose) on any urine remaining in the collection container after the drug test urine specimens have been sealed into the specimen bottles. (e) No one is permitted to change or disregard the results of DOT tests based on the results of non-DOT tests. For example, as an employer you must not disregard a verified positive DOT drug test result because the employee presents a negative test result from a blood or urine specimen collected by the employee's physician or a DNA test result purporting to question the identity of the DOT specimen. (f) As an employer, you must not use the CCF or the ATF in your non-DOT drug and alcohol testing programs. This prohibition includes the use of the DOT forms with references to DOT programs and agencies crossed out. You also must always use the CCF and ATF for all your DOT-mandated drug and alcohol tests.
Avoid DOT fines and penalties, be complaint with all DOT drug and alcohol testing regulations!
DOT Drug Testing USA can assist small, medium and large DOT companies in complying with all requirements of 49 CFR Part 40. Call our DOT drug testing Colorado centers Today!
Become DOT Compliant Today!
DOT Drug Testing USA 
(800)579-8083
Did you Know?
Colorado is a U.S. state encompassing most of the Southern Rocky Mountains as well as the northeastern portion of the Colorado Plateau and the western edge of the Great Plains. Colorado is part of the Western United States, the Southwestern United States, and the Mountain States. Colorado is the 8th most extensive and the 22nd most populous of the 50 United States. The United States Census Bureau estimates that the population of Colorado was 5,355,866 on July 1, 2014, an increase of 6.50% since the 2010 United States Census.
The region that is today the state of Colorado has been inhabited by Native Americans for more than 13,000 years. The Lindenmeier Site in Larimer County contains artifacts dating from approximately 11200 BC to 3000 BC. The eastern edge of the Rocky Mountains was a major migration route that was important to the spread of early peoples throughout the Americas. The Ancient Pueblo peoples lived in the valleys and mesas of the Colorado Plateau. The Ute Nation inhabited the mountain valleys of the Southern Rocky Mountains and the Western Rocky Mountains, even as far east as the Front Range of present day. The Apache and the Comanche also inhabited Eastern and Southeastern parts of the state. At times, the Arapaho Nation and the Cheyenne Nation moved west to hunt across the High Plains.
The U.S. acquired a territorial claim to the eastern Rocky Mountains with the Louisiana Purchase from France in 1803. This U.S. claim conflicted with the claim by Spain to the upper Arkansas River Basin as the exclusive trading zone of its colony of Santa Fé de Nuevo Méjico. In 1806, Zebulon Pike led a U.S. Army reconnaissance expedition into the disputed region. Colonel Pike and his men were arrested by Spanish cavalrymen in the San Luis Valley the following February, taken to Chihuahua, and expelled from Mexico the following July. The U.S. relinquished its claim to all land south and west of the Arkansas River and south of 42nd parallel north and west of the 100th meridian west as part of its purchase of Florida from Spain with the Adams-Onís Treaty of 1819. The treaty took effect February 22, 1821. Having settled its border with Spain, the U.S. admitted the southeastern portion of the Territory of Missouri to the Union as the state of Missouri on August 10, 1821. The remainder of Missouri Territory, including what would become northeastern Colorado, became unorganized territory, and remained so for 33 years over the question of slavery. After 11 years of war, Spain finally recognized the independence of Mexico with the Treaty of Córdoba signed on August 24, 1821. Mexico eventually ratified the Adams-Onís Treaty in 1831. The Texian Revolt of 1835–1836 fomented a dispute between the U.S. and Mexico which eventually erupted into the Mexican-American War in 1846. Mexico surrendered its northern territory to the U.S. with the Treaty of Guadalupe Hidalgo at the conclusion of the war in 1848.