DOT Drug Testing St Pete FL
DOT drug testing St Pete FL is provided by DOT Drug Testing USA for DOT required drug testing and alcohol testing at testing centers in St Pete FL and throughout the local area in compliance with Part 40 of the Department of Transportation's drug and alcohol compliance program. DOT drug testing St Pete FL centers are located within minutes of your home or office and same day service is available in most cases.
In addition, to our DOT drug testing St Pete FL services, DOT Drug Testing USA offers a DOT required random testing/consortium program, DOT supervisor training and DOT written drug policy.
To schedule a DOT drug test or join the DOT random testing program, Call (800) 579-8083.
DOT drug testing St Pete FL locations provide DOT pre-employment, random, post-accident, reasonable suspicion and return to duty testing.
If you are a CDL/Single operator or a small trucking company, DOT Drug Testing USA has a complete DOT complete compliance package which includes all the requirements to comply with part 40. Call DOT Drug Testing USA for details.
On the road and need a DOT drug or alcohol test? No worries!, Call DOT Drug Testing USA  and we can schedule your test at one of our many DOT drug testing locations nationwide (800) 579-8083. 
All DOT Drug Testing USA DOT drug testing St Pete FL centers utilize SAMHSA Certified laboratories and licensed Medical Review Officers as required by DOT regulations.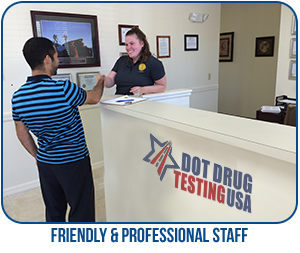 The U.S Department of Transportation (DOT) requires that all DOT regulated "safety sensitive" employees have on file a negative DOT pre-employment drug test result and be a member of a DOT approved random selection consortium. In addition, if a DOT regulated company has more than one "safety sensitive" employee, the employer must also have a written DOT drug and alcohol policy and an on-site supervisor must have completed supervisor training for reasonable suspicion of illegal drug use or impairment.
To be compliant with DOT regulations, a company's DOT drug and alcohol testing program must have the following components.
| | |
| --- | --- |
| | |
| Written Drug & Alcohol Policy | |
| | Designated Employer Representative |
| Substance Abuse Referral (SAP) | Federal Chain of Custody Forms |
| | |
The Department of Transportation (DOT) has specific drug and alcohol testing requirements for the following governmental agencies and DOT Drug Testing USA provides all testing services
| | |
| --- | --- |
| Federal Motor Carrier Safety Administration (FMCSA) | United States Coast Guard (USCG) |
| Federal Aviation Administration (FAA) | Pipeline and Hazardous Materials Safety Administration (PHMSA) |
| Federal Transit Administration (FTA) | Federal Railroad Administration (FRA) |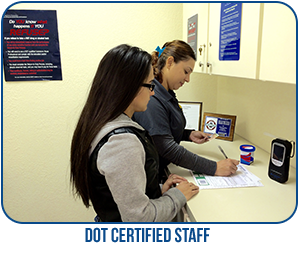 DOT regulated companies with multiple safety sensitive employees must also have an employee within the company who is assigned as the "designated employer representative" (DER). This is the person responsible for removing any DOT "safety sensitive" employee who is covered by 49 CFR Part 40 from performing a DOT safety sensitive position when a positive drug or alcohol test result has occurred or an employee has refused to take a required DOT test.
If you have recently become a DOT regulated company, within the next 18 months the Department of Transportation (DOT) will conduct a "new entrant" inspection to ensure that you are in compliance with all DOT regulations including the drug and alcohol testing requirements. If you are currently a DOT regulated company you are subject to regular inspections to ensure compliance.
Avoid DOT fines and penalties, be complaint with all DOT drug and alcohol testing regulations!
DOT Drug Testing USA can assist small, medium and large DOT companies in complying with all requirements of 49 CFR Part 40. Call our DOT drug testing St Pete FL centers Today!
Become DOT Compliant Today!
DOT Drug Testing USA 
(800)579-8083
Did you Know?
St. Petersburg is a city in Pinellas County, Florida, United States. As of the 2013 census estimate, the population was 249,688, making St. Petersburg the 4th most populous city in the state of Florida and the largest city in Florida that is not a county seat (the city of Clearwater is the county seat).St. Petersburg is the second largest city in the Tampa Bay Area, after Tampa, composed of roughly 2.8 million residents, making it the second largest Metropolitan Statistical Area in the state. It is also a popular vacation destination for both American and foreign tourists.
The city is often referred to by locals as St. Pete. Neighboring St. Pete Beach formally shortened its name in 1994 after a vote by its residents. St. Petersburg is governed by a mayor and city council.
The city is located on a peninsula between Tampa Bay and the Gulf of Mexico. It is connected to mainland Florida to the north, with the city of Tampa to the east by causeways and bridges across Tampa Bay, and to Bradenton in the south by the Sunshine Skyway Bridge (Interstate 275), which traverses the mouth of the bay. It is also served by Interstates 175 and 375, which branch off I-275 into the southern and northern areas of downtown respectively. The Gandy Bridge, conceived by George Gandy and opened in 1924, was the first causeway to be built across Tampa Bay, connecting St. Petersburg and Tampa cities without a circuitous 43-mile (69 km) trip around the bay through Oldsmar.With an average of some 361 days of sunshine each year, and a Guinness World Record for logging the most consecutive days of sunshine (768 days), it is nicknamed "The Sunshine City". Due to its good weather and low cost of living, the city has long been a popular retirement destination, although in recent years the population has moved in a much more youthful direction. American Style magazine ranked St. Petersburg its top mid-size city in 2011, citing its "vibrant" arts scene.