DOT Drug Testing Hawaii
DOT Drug Testing Hawaii is provided by DOT Drug Testing USA for DOT required drug testing and alcohol testing at testing centers throughout the State of Hawaii in compliance with Part 40 of the Department of Transportation's drug and alcohol compliance program. DOT drug testing Hawaii centers are located within minutes of your home or office and same day service is available in most cities.
In addition, to our DOT drug testing Hawaii services, DOT Drug Testing USA offers a DOT required random testing/consortium program, DOT supervisor training and DOT written drug policy.
To schedule a DOT drug test in the State of Hawaii or join the DOT random testing/consortium program, Call (800) 579-8083.
DOT drug testing Hawaii locations provide DOT pre-employment, random, post-accident, reasonable suspicion and return to duty testing.
If you are a CDL/Single operator or a small trucking company, Heath Screenings USA has a complete DOT complete compliance package which includes all the requirements to comply with part 40. Call DOT Drug Testing USA for details.
On the road and need a DOT drug or alcohol test? No worries!, Call DOT Drug Testing USA  and we can schedule your test at one of our many DOT drug testing locations throughout the State of Hawaii. (800) 579-8083. 
All DOT Drug Testing USA DOT drug testing Hawaii centers utilize SAMHSA Certified laboratories and licensed Medical Review Officers as required by DOT regulations.
The U.S Department of Transportation (DOT) requires that all DOT regulated "safety sensitive" employees have on file a negative DOT pre-employment drug test result and be a member of a DOT approved random selection consortium.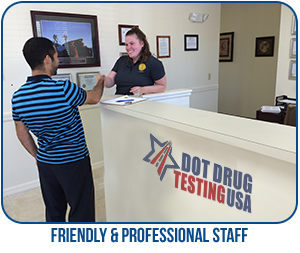 In addition, if a DOT regulated company has more than one "safety sensitive" employee, the employer must also have a written DOT drug and alcohol policy and an on-site supervisor must have completed supervisor training for reasonable suspicion of illegal drug use or impairment.
To be compliant with DOT regulations, a company's DOT drug and alcohol testing program must have the following components.
| | |
| --- | --- |
| | |
| Written Drug & Alcohol Policy | |
| | Designated Employer Representative |
| Substance Abuse Referral (SAP) | Federal Chain of Custody Forms |
| | |
The Department of Transportation (DOT) has specific drug and alcohol testing requirements for the following governmental agencies and DOT Drug Testing USA provides testing for:
| | |
| --- | --- |
| Federal Motor Carrier Safety Administration (FMCSA) | United States Coast Guard (USCG) |
| Federal Aviation Administration (FAA) | Pipeline and Hazardous Materials Safety Administration (PHMSA) |
| Federal Transit Administration (FTA) | Federal Railroad Administration (FRA) |
DOT regulated companies with multiple safety sensitive employees must also have an employee within the company who is assigned as the "designated employer representative" (DER).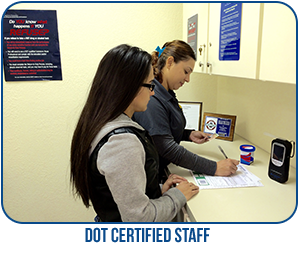 This is the person responsible for removing any DOT "safety sensitive" employee who is covered by 49 CFR Part 40 from performing a DOT safety sensitive position when a positive drug or alcohol test result has occurred or an employee has refused to take a required DOT test.
If you have recently become a DOT regulated company, within the next 18 months the Department of Transportation (DOT) will conduct a "new entrant" inspection to ensure that you are in compliance with all DOT regulations including the drug and alcohol testing requirements. If you are currently a DOT regulated company you are subject to regular inspections to ensure compliance.
DOT Testing and Non-DOT Testing by Employers
DOT Regulated employers may conduct additional drug testing separate from the required 5-Panel Urine Drug Test as required by Part 40. As an example, a DOT Regulated employer may have a company policy which requires a 10-Panel Drug Test, however, the DOT 5-Panel Test still is required in accordance with Part 40 and must be conducted separate from any other internal company drug policy requirements. Below is certain information regarding DOT Regulated companies and Non-DOT drug testing.
§ 40.13 How do DOT drug and alcohol tests relate to non-DOT tests? (a) DOT tests must be completely separate from non-DOT tests in all respects. (b) DOT tests must take priority and must be conducted and completed before a non-DOT test is begun. For example, you must discard any excess urine left over from a DOT test and collect a separate void for the subsequent nonDOT test. (c) Except as provided in paragraph (d) of this section, you must not perform any tests on DOT urine or breath specimens other than those specifically authorized by this part or DOT agency regulations. For example, you may not test a DOT urine specimen for additional drugs, and a laboratory is prohibited from making a DOT urine specimen available for a DNA test or other types of specimen identity testing. (d) The single exception to paragraph (c) of this section is when a DOT drug test collection is conducted as part of a physical examination required by DOT agency regulations. It is permissible to conduct required medical tests related to this physical examination (e.g., for glucose) on any urine remaining in the collection container after the drug test urine specimens have been sealed into the specimen bottles. (e) No one is permitted to change or disregard the results of DOT tests based on the results of non-DOT tests. For example, as an employer you must not disregard a verified positive DOT drug test result because the employee presents a negative test result from a blood or urine specimen collected by the employee's physician or a DNA test result purporting to question the identity of the DOT specimen. (f) As an employer, you must not use the CCF or the ATF in your non-DOT drug and alcohol testing programs. This prohibition includes the use of the DOT forms with references to DOT programs and agencies crossed out. You also must always use the CCF and ATF for all your DOT-mandated drug and alcohol tests.
Avoid DOT fines and penalties, be complaint with all DOT drug and alcohol testing regulations!
DOT Drug Testing USA can assist small, medium and large DOT companies in complying with all requirements of 49 CFR Part 40. Call our DOT drug testing Hawaii centers Today!
Become DOT Compliant Today!
DOT Drug Testing USA 
(800)579-8083
Did you Know?
Hawaii is the 50th and most recent U.S. state to join the United States, having joined on August 21, 1959. Hawaii is the only U.S. state located in Oceania and the only one composed entirely of islands. It is the northernmost island group in Polynesia, occupying most of an archipelago in the central Pacific Ocean. Hawaii is the only U.S. state not located in the Americas. The state does not observe daylight saving time. The state encompasses nearly the entire volcanic Hawaiian archipelago, which comprises hundreds of islands spread over 1,500 miles (2,400 km). At the southeastern end of the archipelago, the eight main islands are—in order from northwest to southeast: Niʻihau, Kauaʻi, Oʻahu, Molokaʻi, Lānaʻi, Kahoʻolawe, Maui and the Island of Hawaiʻi. The last is the largest island in the group; it is often called the "Big Island" or "Hawaiʻi Island" to avoid confusion with the state or archipelago. The archipelago is physiographically and ethnologically part of the Polynesian subregion of Oceania. Hawaii's diverse natural scenery, warm tropical climate, abundance of public beaches, oceanic surroundings, and active volcanoes make it a popular destination for tourists, surfers, biologists, and volcanologists. Because of its central location in the Pacific and 19th-century labor migration, Hawaii's culture is strongly influenced by North American and Asian cultures, in addition to its indigenous Hawaiian culture. Hawaii has over a million permanent residents, along with many visitors and U.S. military personnel. Its capital is Honolulu on the island of Oʻahu. Hawaii is the 8th-smallest and the 11th-least populous, but the 13th-most densely populated of the fifty U.S. states. It is the only state with an Asian plurality. The state's coastline is about 750 miles (1,210 km) long, the fourth longest in the U.S. after the coastlines of Alaska, Florida and California.
The state of Hawaii derives its name from the name of its largest island, Hawaiʻi. A common Hawaiian explanation of the name of Hawaiʻi is that was named for Hawaiʻiloa, a legendary figure from Hawaiian myth. He is said to have discovered the islands when they were first settled. The Hawaiian language word Hawaiʻi is very similar to Proto-Polynesian *Sawaiki, with the reconstructed meaning "homeland". Cognates of Hawaiʻi are found in other Polynesian languages, including Māori (Hawaiki), Rarotongan (ʻAvaiki) and Samoan (Savaiʻi) . According to linguists Pukui and Elbert, "elsewhere in Polynesia, Hawaiʻi or a cognate is the name of the underworld or of the ancestral home, but in Hawaii, the name has no meaning". A somewhat divisive political issue arose in 1978 when the Constitution of the State of Hawaii added Hawaiian as a second official state language. The title of the state constitution is The Constitution of the State of Hawaii. Article XV, Section 1 of the Constitution uses The State of Hawaii. Diacritics were not used because the document, drafted in 1949, predates the use of the okina (ʻ) and the kahakō in modern Hawaiian orthography. The exact spelling of the state's name in the islands' language is Hawaiʻi. In the Hawaii Admission Act that granted Hawaiian statehood, the federal government recognized Hawaii as the official state name. Official government publications, as well as department and office titles, use the traditional Hawaiian spelling with no symbols for glottal stops or vowel length. In contrast, the National and State Parks Services, the University of Hawaiʻi and some private enterprises implement these symbols. A precedent for changes to U.S. state names was set in 1780 when the Massachusetts Bay State changed its name to the Commonwealth of Massachusetts and in the 1820s when the Territory of Arkansaw changed the spelling of its name to the Territory of Arkansas.
Hawaii is one of four U.S. states—apart from the original thirteen—the Vermont Republic (1791), the Republic of Texas (1845), and the California Republic (1846)—that were independent nations prior to statehood. Along with Texas, Hawaii had formal, international diplomatic recognition as a nation. The Kingdom of Hawaiʻi was sovereign from 1810 until 1893 when the monarchy was overthrown by resident American and European capitalists and landholders in a coup d'état. Hawaii was an independent republic from 1894 until August 12, 1898, when it officially became a territory of the United States. Hawaii was admitted as a U.S. state on August 21, 1959. Based on archaeological evidence, the earliest habitation of the Hawaiian Islands dates to around 300 CE, probably by Polynesian settlers from the Marquesas Islands. A second wave of migration from Raiatea and Bora Bora took place in the 11th century. The date of the human discovery and habitation of the Hawaiian Islands is the subject of academic debate. Some archaeologists and historians believe there was an early settlement from the Marquesas. They think it was a later wave of immigrants from Tahiti around 1000 CE who introduced a new line of high chiefs, the kapu system, the practice of human sacrifice, and the building of heiau. This later immigration is detailed in Hawaiian mythology (moʻolelo) about Paʻao. Other authors say there is no archaeological or linguistic evidence for a later influx of Tahitian settlers and that Paʻao must be regarded as a myth. The history of the islands is marked by a slow, steady growth in population and the size of the chiefdoms, which grew to encompass whole islands. Local chiefs, called aliʻi, ruled their settlements, and launched wars to extend their influence and defend their communities from predatory rivals. Ancient Hawaii was a caste-based society, much like that of Hindus in India.