DOT Drug Testing Kula HI
DOT drug testing Kula HI is provided by DOT Drug Testing USA for DOT required drug testing and alcohol testing at testing centers in Kula HI and throughout the local area in compliance with Part 40 of the Department of Transportation's drug and alcohol compliance program. DOT drug testing Kula HI centers are located within minutes of your home or office and same day service is available in most cases.
In addition, to our DOT drug testing Kula HI services, DOT Drug Testing USA offers a DOT required random testing/consortium program, DOT supervisor training and DOT written drug policy.
To schedule a DOT drug test or join the DOT random testing program, Call (800) 579-8083.
DOT drug testing Kula HI locations provide DOT pre-employment, random, post-accident, reasonable suspicion and return to duty testing.
If you are a CDL/Single operator or a small trucking company, DOT Drug Testing USA has a complete DOT complete compliance package which includes all the requirements to comply with part 40. Call DOT Drug Testing USA for details.
On the road and need a DOT drug or alcohol test? No worries!, Call DOT Drug Testing USA  and we can schedule your test at one of our many DOT drug testing locations nationwide (800) 579-8083. 
All DOT Drug Testing USA DOT drug testing Kula HI centers utilize SAMHSA Certified laboratories and licensed Medical Review Officers as required by DOT regulations.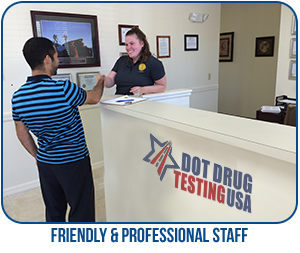 The U.S Department of Transportation (DOT) requires that all DOT regulated "safety sensitive" employees have on file a negative DOT pre-employment drug test result and be a member of a DOT approved random selection consortium. In addition, if a DOT regulated company has more than one "safety sensitive" employee, the employer must also have a written DOT drug and alcohol policy and an on-site supervisor must have completed supervisor training for reasonable suspicion of illegal drug use or impairment.
To be compliant with DOT regulations, a company's DOT drug and alcohol testing program must have the following components.
| | |
| --- | --- |
| | |
| Written Drug & Alcohol Policy | |
| | Designated Employer Representative |
| Substance Abuse Referral (SAP) | Federal Chain of Custody Forms |
| | |
The Department of Transportation (DOT) has specific drug and alcohol testing requirements for the following governmental agencies and DOT Drug Testing USA provides all testing services
| | |
| --- | --- |
| Federal Motor Carrier Safety Administration (FMCSA) | United States Coast Guard (USCG) |
| Federal Aviation Administration (FAA) | Pipeline and Hazardous Materials Safety Administration (PHMSA) |
| Federal Transit Administration (FTA) | Federal Railroad Administration (FRA) |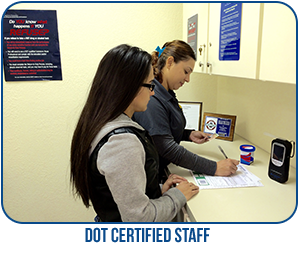 DOT regulated companies with multiple safety sensitive employees must also have an employee within the company who is assigned as the "designated employer representative" (DER). This is the person responsible for removing any DOT "safety sensitive" employee who is covered by 49 CFR Part 40 from performing a DOT safety sensitive position when a positive drug or alcohol test result has occurred or an employee has refused to take a required DOT test.
If you have recently become a DOT regulated company, within the next 18 months the Department of Transportation (DOT) will conduct a "new entrant" inspection to ensure that you are in compliance with all DOT regulations including the drug and alcohol testing requirements. If you are currently a DOT regulated company you are subject to regular inspections to ensure compliance.
Avoid DOT fines and penalties, be complaint with all DOT drug and alcohol testing regulations!
DOT Drug Testing USA can assist small, medium and large DOT companies in complying with all requirements of 49 CFR Part 40. Call our DOT drug testing Kula HI centers Today!
Become DOT Compliant Today!
DOT Drug Testing USA 
(800)579-8083
Did you Know?
Kula is a district of Maui, Hawaii, that stretches across the "up-country", the western-facing slopes of Haleakalā, from Makawao to Ulupalakua. Most of the residential areas lie between about 500 to 1,100 m (1,600 to 3,600 ft.) in elevation. The district has traditionally been where full-time residents prefer to live, as distinct from the generally hotter and busier, more tourism-oriented towns near sea level, such as Kihei and Lahaina. Kula roughly extends from Haleakala Highway (Hawaii Route 37) in the north to Keokea in the south—a distance of about 16 miles around 20°47′32″N 156°19′37″WCoordinates: 20°47′32″N 156°19′37″W. The largely rural area known as Upper Kula includes the region up-slope from Lower Kula, the more densely populated area spread along the Kula Highway. The word Kula means "open meadows" in the Hawaiian language. On Maui Kula is one of the island's 12 foundation districts of ancient Hawaii called moku. Generally, Kula is a zone of arid earth with open country slopes between the inhabited and productive shoreline areas and the densely forested zone higher on the mountain.
Maui's Kula district is the island's largest district, extending from dry coastal areas to the wetter high pasture lands of three major ranches (Haleakala, Erewhon, and Ulupalakua) that cap the region about halfway up the slopes of Haleakala. It laterally extends from Keokea to near Makawao where the rainforest of East Maui once began. In leeward areas, away from the prevailing moist tradewinds—called the rain shadow of Haleakala—the lower portion of Maui consists of a broad, arid expanse where little cultivation of the earth is possible. This zone consists of dry, desert-like open range just inland from the sea in artificially irrigated Kihei, and is covered with kiawe trees to an elevation of about 1,000 feet on the volcano's slopes. Between this zone and the upper reaches of the hillsides, especially up steep Waipoli and Poli Poli Roads, broad, are open areas for vegetable and fruit crops. The moderate climate often yields as many as three or four harvests per year. When the territorial legislature first set up the political design in 1906, they decreed only two levels of government: state and county. Consequently, Hawaii's towns do not have specific boundaries or "city limits." There are also no official district boundaries for Maui County elections.
The twisty Haleakala Highway, from its junction with Kula Highway in Pukalani, loosely defines the northern edge of Upper Kula. The upper road (Kekaulike Avenue), also known as State Highway 377, leads up through usually green pastures, silver eucalyptus tree groves (and Blue Jacaranda trees in late spring), contrasting to the sugarcane below. Where the road beyond Kula Lodge makes an abrupt upward tack to Haleakala National Park, the area known as Upper Kula surrounds Kekaulike Avenue. In less than five miles it descends the slope to rejoin the Kula Highway near Rice Park and heads south to Keokea. There is little commercial development along Kekaulike except Kula Botanical Garden and Aliʻi Kula Lavender Farm. Vegetable and flower gardens surround the meandering highway as farmers take advantage of the area's unique combination of open space, good soil, moisture-laden clouds and filtered tropical sun. New homes dot the area, taking advantage of the moderate weather and bi-coastal views of the isthmus below. In Keokea, the Kula Hospital sits on the hillside above the road. Originally a tuberculosis treatment sanatorium built in 1909, Kula Hospital now serves the community as a critical access hospital.