DOT Drug Testing Lihue HI
DOT drug testing Lihue HI is provided by DOT Drug Testing USA for DOT required drug testing and alcohol testing at testing centers in Lihue HI and throughout the local area in compliance with Part 40 of the Department of Transportation's drug and alcohol compliance program. DOT drug testing Lihue HI centers are located within minutes of your home or office and same day service is available in most cases.
In addition, to our DOT drug testing Lihue HI services, DOT Drug Testing USA offers a DOT required random testing/consortium program, DOT supervisor training and DOT written drug policy.
To schedule a DOT drug test or join the DOT random testing program, Call (800) 579-8083.
DOT drug testing Lihue HI locations provide DOT pre-employment, random, post-accident, reasonable suspicion and return to duty testing.
If you are a CDL/Single operator or a small trucking company, DOT Drug Testing USA has a complete DOT complete compliance package which includes all the requirements to comply with part 40. Call DOT Drug Testing USA for details.
On the road and need a DOT drug or alcohol test? No worries!, Call DOT Drug Testing USA  and we can schedule your test at one of our many DOT drug testing locations nationwide (800) 579-8083. 
All DOT Drug Testing USA DOT drug testing Lihue HI centers utilize SAMHSA Certified laboratories and licensed Medical Review Officers as required by DOT regulations.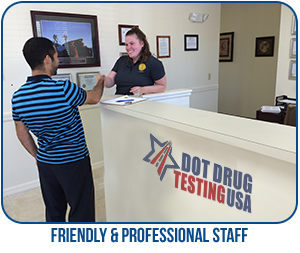 The U.S Department of Transportation (DOT) requires that all DOT regulated "safety sensitive" employees have on file a negative DOT pre-employment drug test result and be a member of a DOT approved random selection consortium. In addition, if a DOT regulated company has more than one "safety sensitive" employee, the employer must also have a written DOT drug and alcohol policy and an on-site supervisor must have completed supervisor training for reasonable suspicion of illegal drug use or impairment.
To be compliant with DOT regulations, a company's DOT drug and alcohol testing program must have the following components.
| | |
| --- | --- |
| | |
| Written Drug & Alcohol Policy | |
| | Designated Employer Representative |
| Substance Abuse Referral (SAP) | Federal Chain of Custody Forms |
| | |
The Department of Transportation (DOT) has specific drug and alcohol testing requirements for the following governmental agencies and DOT Drug Testing USA provides all testing services
| | |
| --- | --- |
| Federal Motor Carrier Safety Administration (FMCSA) | United States Coast Guard (USCG) |
| Federal Aviation Administration (FAA) | Pipeline and Hazardous Materials Safety Administration (PHMSA) |
| Federal Transit Administration (FTA) | Federal Railroad Administration (FRA) |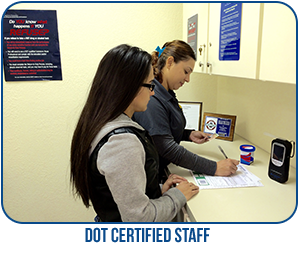 DOT regulated companies with multiple safety sensitive employees must also have an employee within the company who is assigned as the "designated employer representative" (DER). This is the person responsible for removing any DOT "safety sensitive" employee who is covered by 49 CFR Part 40 from performing a DOT safety sensitive position when a positive drug or alcohol test result has occurred or an employee has refused to take a required DOT test.
If you have recently become a DOT regulated company, within the next 18 months the Department of Transportation (DOT) will conduct a "new entrant" inspection to ensure that you are in compliance with all DOT regulations including the drug and alcohol testing requirements. If you are currently a DOT regulated company you are subject to regular inspections to ensure compliance.
Avoid DOT fines and penalties, be complaint with all DOT drug and alcohol testing regulations!
DOT Drug Testing USA can assist small, medium and large DOT companies in complying with all requirements of 49 CFR Part 40. Call our DOT drug testing Lihue HI centers Today!
Become DOT Compliant Today!
DOT Drug Testing USA 
(800)579-8083
Did you Know?
Lihue or Līhuʻe is an unincorporated census-designated place (CDP) and the county seat of Kauai County, Hawaii. Lihue is the second largest town on the Hawaiian island of Kauaʻi after Kapaʻa. As of the 2010 Census, the CDP had a total population of 6,455. In ancient times, Lihue was a minor village. Līhuʻe means "cold chill" in the Hawaiian language. Lihue is located in the ancient district of Puna, the southeastern coast of the island, and land division (ahupuaʻa) of Kalapaki. Royal Governor Kaikioʻewa officially made it his governing seat in 1837, moving it from Waimea; he gave the town its name after the land he owned on Oahu by the same name. With the emergence of the sugar industry in the 1800s, Lihue became the central city of the island with the construction of a large sugar mill. Early investors were Henry A. Peirce, Charles Reed Bishop and William Little Lee. The plantation struggled until William Harrison Rice built the first irrigation system in 1856.
Subsequent plantation owner Paul Isenberg helped German people emigrate to Lihue starting in 1881, with the first Lutheran church in Hawaii founded in 1883. Services were delivered in German well into the 1960s. By the 1930s, George Norton Wilcox became one of the largest sugar plantation owners, buying Grove Farm from Hermann A. Widemann. The Wilcox family home, Kilohana, has been converted into a restaurant and gift shop. The surrounding plantation now grows crops and livestock. A narrow gauge tourist railroad with vintage diesel locomotives from Whitworth and General Electric offers tours of the plantation; horse-drawn carriage tours are offered as well. The grounds are also the site of luaus, many of which are offshore excursions booked through NCL America. Lihue also houses the Kauai Museum, which details the history of Kauai.
According to the United States Census Bureau, the CDP has a total area of 7.1 square miles (18 km2), of which, 6.3 square miles (16 km2) of it is land and 0.8 square miles (2.1 km2) of it (11.11%) is water. As of the census of 2000, there were 5,694 people, 2,178 households, and 1,420 families residing in the CDP. The population density was 898.3 people per square mile (346.6/km²). There were 2,399 housing units at an average density of 379.8 per square mile (146.6/km²). The racial makeup of the CDP was 22.8% White, 49.2% Asian, 0.2% Black or African American, 0.2% Native American, 6.4% Pacific Islander, 0.7% from other races, and 20.5% from two or more races. 6.5% of the population were Hispanic or Latino of any race. There were 2,178 households out of which 25.8% had children under the age of 18 living with them, 48.9% were married couples living together, 11.8% had a female householder with no husband present, and 34.8% were non-families. 29.9% of all households were made up of individuals and 16.1% had someone living alone who was 65 years of age or older. The average household size was 2.55 and the average family size was 3.16.