DOT Drug Testing Mississippi
DOT Drug Testing Mississippi is provided by DOT Drug Testing USA for DOT required drug testing and alcohol testing at testing centers throughout the State of Mississippi in compliance with Part 40 of the Department of Transportation's drug and alcohol compliance program. DOT drug testing Mississippi centers are located within minutes of your home or office and same day service is available in most cities.
In addition, to our DOT drug testing Mississippi services, DOT Drug Testing USA offers a DOT required random testing/consortium program, DOT supervisor training and DOT written drug policy.
To schedule a DOT drug test in the State of Mississippi or join the DOT random testing/consortium program, Call (800) 579-8083.
DOT drug testing Mississippi locations provide DOT pre-employment, random, post-accident, reasonable suspicion and return to duty testing.
If you are a CDL/Single operator or a small trucking company, Heath Screenings USA has a complete DOT complete compliance package which includes all the requirements to comply with part 40. Call DOT Drug Testing USA for details.
On the road and need a DOT drug or alcohol test? No worries!, Call DOT Drug Testing USA  and we can schedule your test at one of our many DOT drug testing locations throughout the State of Mississippi. (800) 579-8083. 
All DOT Drug Testing USA DOT drug testing Mississippi centers utilize SAMHSA Certified laboratories and licensed Medical Review Officers as required by DOT regulations.
The U.S Department of Transportation (DOT) requires that all DOT regulated "safety sensitive" employees have on file a negative DOT pre-employment drug test result and be a member of a DOT approved random selection consortium.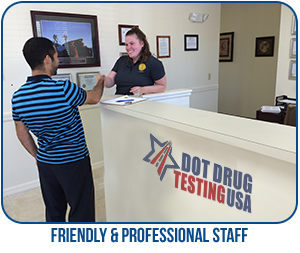 In addition, if a DOT regulated company has more than one "safety sensitive" employee, the employer must also have a written DOT drug and alcohol policy and an on-site supervisor must have completed supervisor training for reasonable suspicion of illegal drug use or impairment.
To be compliant with DOT regulations, a company's DOT drug and alcohol testing program must have the following components.
| | |
| --- | --- |
| | |
| Written Drug & Alcohol Policy | |
| | Designated Employer Representative |
| Substance Abuse Referral (SAP) | Federal Chain of Custody Forms |
| | |
The Department of Transportation (DOT) has specific drug and alcohol testing requirements for the following governmental agencies and DOT Drug Testing USA provides testing for:
| | |
| --- | --- |
| Federal Motor Carrier Safety Administration (FMCSA) | United States Coast Guard (USCG) |
| Federal Aviation Administration (FAA) | Pipeline and Hazardous Materials Safety Administration (PHMSA) |
| Federal Transit Administration (FTA) | Federal Railroad Administration (FRA) |
DOT regulated companies with multiple safety sensitive employees must also have an employee within the company who is assigned as the "designated employer representative" (DER).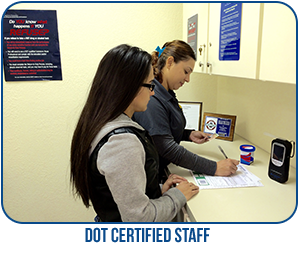 This is the person responsible for removing any DOT "safety sensitive" employee who is covered by 49 CFR Part 40 from performing a DOT safety sensitive position when a positive drug or alcohol test result has occurred or an employee has refused to take a required DOT test.
If you have recently become a DOT regulated company, within the next 18 months the Department of Transportation (DOT) will conduct a "new entrant" inspection to ensure that you are in compliance with all DOT regulations including the drug and alcohol testing requirements. If you are currently a DOT regulated company you are subject to regular inspections to ensure compliance.
DOT Testing and Non-DOT Testing by Employers
DOT Regulated employers may conduct additional drug testing separate from the required 5-Panel Urine Drug Test as required by Part 40. As an example, a DOT Regulated employer may have a company policy which requires a 10-Panel Drug Test, however, the DOT 5-Panel Test still is required in accordance with Part 40 and must be conducted separate from any other internal company drug policy requirements. Below is certain information regarding DOT Regulated companies and Non-DOT drug testing.
§ 40.13 How do DOT drug and alcohol tests relate to non-DOT tests? (a) DOT tests must be completely separate from non-DOT tests in all respects. (b) DOT tests must take priority and must be conducted and completed before a non-DOT test is begun. For example, you must discard any excess urine left over from a DOT test and collect a separate void for the subsequent nonDOT test. (c) Except as provided in paragraph (d) of this section, you must not perform any tests on DOT urine or breath specimens other than those specifically authorized by this part or DOT agency regulations. For example, you may not test a DOT urine specimen for additional drugs, and a laboratory is prohibited from making a DOT urine specimen available for a DNA test or other types of specimen identity testing. (d) The single exception to paragraph (c) of this section is when a DOT drug test collection is conducted as part of a physical examination required by DOT agency regulations. It is permissible to conduct required medical tests related to this physical examination (e.g., for glucose) on any urine remaining in the collection container after the drug test urine specimens have been sealed into the specimen bottles. (e) No one is permitted to change or disregard the results of DOT tests based on the results of non-DOT tests. For example, as an employer you must not disregard a verified positive DOT drug test result because the employee presents a negative test result from a blood or urine specimen collected by the employee's physician or a DNA test result purporting to question the identity of the DOT specimen. (f) As an employer, you must not use the CCF or the ATF in your non-DOT drug and alcohol testing programs. This prohibition includes the use of the DOT forms with references to DOT programs and agencies crossed out. You also must always use the CCF and ATF for all your DOT-mandated drug and alcohol tests.
Avoid DOT fines and penalties, be complaint with all DOT drug and alcohol testing regulations!
DOT Drug Testing USA can assist small, medium and large DOT companies in complying with all requirements of 49 CFR Part 40. Call our DOT drug testing Mississippi centers Today!
Become DOT Compliant Today!
DOT Drug Testing USA 
(800)579-8083
Did you Know?
Mississippi is a state located in the Southern United States. Jackson is the state capital and largest city, with a population of around 175,000 people. The state overall has a population of around 3 million people. Mississippi is the 32nd most extensive and the 31st most populous of the 50 United States. The state is heavily forested outside of the Mississippi Delta area. Its riverfront areas were cleared for cotton cultivation in the antebellum era, but the bottomlands were cleared mostly by freedmen after the war. Blacks made up two-thirds of the property owners in the Delta by the end of the 19th century, but timber and railroad companies acquired much of the land. Clearing altered the ecology of the Delta, increasing the severity of flooding along the Mississippi. Much land is now held by agribusinesses. A largely rural state with agricultural areas dominated by industrial farms, Mississippi is ranked low or last among the states in such measures as health, educational attainment, and median household income. The state's catfish aquaculture farms produce the majority of farm-raised catfish consumed in the United States. Since the 1930s and the Great Migration, Mississippi has been majority white, albeit with the highest percentage of black residents of any U.S. state. From the early 19th century to that period, it was majority black, a population composed largely of African-American slaves before the American Civil War. In the first half of the 20th century, a total of nearly 400,000 rural blacks left the state for work and opportunities in northern and midwestern cities, with another wave of migration around World War II to West Coast cities. In 2010, 37% of Mississippians were African-Americans, the highest percentage of African Americans in a U.S. state. African Americans are still a majority in many counties of the Mississippi-Yazoo Delta, an area of historic settlement during the plantation era. Since 2011 Mississippi has been ranked the most religious state in the country.
Mississippi is bordered on the north by Tennessee, on the east by Alabama, on the south by Louisiana and a narrow coast on the Gulf of Mexico; and on the west, across the Mississippi River, by Louisiana and Arkansas. In addition to its namesake, major rivers in Mississippi include the Big Black River, the Pearl River, the Yazoo River, the Pascagoula River, and the Tombigbee River. Major lakes include Ross Barnett Reservoir, Arkabutla Lake, Sardis Lake, and Grenada Lake. The largest lake in Mississippi is Sardis Lake. The state of Mississippi is entirely composed of lowlands, the highest point being Woodall Mountain, in the foothills of the Cumberland Mountains, 807 feet (246 m) above sea level. The lowest point is sea level at the Gulf coast. The mean elevation in the state is 300 feet (91 m) above sea level. Most of Mississippi is part of the East Gulf Coastal Plain. The coastal plain is generally composed of low hills, such as the Pine Hills in the south and the North Central Hills. The Pontotoc Ridge and the Fall Line Hills in the northeast have somewhat higher elevations. Yellow-brown loess soil is found in the western parts of the state. The northeast is a region of fertile black earth that extends into the Alabama Black Belt.