DOT Drug Testing Holloman AFB NM
DOT drug testing Holloman AFB NM is provided by DOT Drug Testing USA for DOT required drug testing and alcohol testing at testing centers in Holloman AFB NM and throughout the local area in compliance with Part 40 of the Department of Transportation's drug and alcohol compliance program. DOT drug testing Holloman AFB NM centers are located within minutes of your home or office and same day service is available in most cases.
In addition, to our DOT drug testing Holloman AFB NM services, DOT Drug Testing USA offers a DOT required random testing/consortium program, DOT supervisor training and DOT written drug policy.
To schedule a DOT drug test or join the DOT random testing program, Call (800) 579-8083.
DOT drug testing Holloman AFB NM locations provide DOT pre-employment, random, post-accident, reasonable suspicion and return to duty testing.
If you are a CDL/Single operator or a small trucking company, DOT Drug Testing USA has a complete DOT complete compliance package which includes all the requirements to comply with part 40. Call DOT Drug Testing USA for details.
On the road and need a DOT drug or alcohol test? No worries!, Call DOT Drug Testing USA  and we can schedule your test at one of our many DOT drug testing locations nationwide (800) 579-8083. 
All DOT Drug Testing USA DOT drug testing Holloman AFB NM centers utilize SAMHSA Certified laboratories and licensed Medical Review Officers as required by DOT regulations.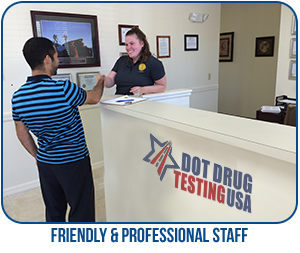 The U.S Department of Transportation (DOT) requires that all DOT regulated "safety sensitive" employees have on file a negative DOT pre-employment drug test result and be a member of a DOT approved random selection consortium. In addition, if a DOT regulated company has more than one "safety sensitive" employee, the employer must also have a written DOT drug and alcohol policy and an on-site supervisor must have completed supervisor training for reasonable suspicion of illegal drug use or impairment.
To be compliant with DOT regulations, a company's DOT drug and alcohol testing program must have the following components.
| | |
| --- | --- |
| | |
| Written Drug & Alcohol Policy | |
| | Designated Employer Representative |
| Substance Abuse Referral (SAP) | Federal Chain of Custody Forms |
| | |
The Department of Transportation (DOT) has specific drug and alcohol testing requirements for the following governmental agencies and DOT Drug Testing USA provides all testing services
| | |
| --- | --- |
| Federal Motor Carrier Safety Administration (FMCSA) | United States Coast Guard (USCG) |
| Federal Aviation Administration (FAA) | Pipeline and Hazardous Materials Safety Administration (PHMSA) |
| Federal Transit Administration (FTA) | Federal Railroad Administration (FRA) |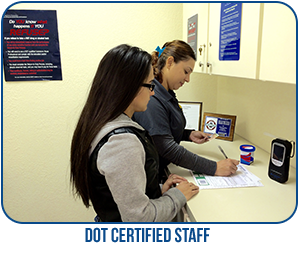 DOT regulated companies with multiple safety sensitive employees must also have an employee within the company who is assigned as the "designated employer representative" (DER). This is the person responsible for removing any DOT "safety sensitive" employee who is covered by 49 CFR Part 40 from performing a DOT safety sensitive position when a positive drug or alcohol test result has occurred or an employee has refused to take a required DOT test.
If you have recently become a DOT regulated company, within the next 18 months the Department of Transportation (DOT) will conduct a "new entrant" inspection to ensure that you are in compliance with all DOT regulations including the drug and alcohol testing requirements. If you are currently a DOT regulated company you are subject to regular inspections to ensure compliance.
Avoid DOT fines and penalties, be complaint with all DOT drug and alcohol testing regulations!
DOT Drug Testing USA can assist small, medium and large DOT companies in complying with all requirements of 49 CFR Part 40. Call our DOT drug testing Holloman AFB NM centers Today!
Become DOT Compliant Today!
DOT Drug Testing USA 
(800)579-8083
Did you Know?
Holloman Air Force Base is a United States Air Force base located six miles (10 km) southwest of the central business district of Alamogordo, and a census-designated place in Otero County, New Mexico, United States. The base was named in honor of Col. George V. Holloman, a pioneer in guided missile research. It is the home of the 49th Wing (49 WG) of the Air Combat Command (ACC).
Holloman is located in New Mexico's Tularosa Basin between the Sacramento and San Andres mountain ranges. The base is about 10 miles (16 km) west of Alamogordo, New Mexico, on U.S. Route 70/82; 90 miles (145 km) north of El Paso, Texas; and 70 miles (113 km) east of Las Cruces, New Mexico. The base covers 59,639 acres (24,135 ha) and is located at an altitude of 4,093 feet (1,248 m). Holloman is home to the world's longest, at 50,188 feet (almost 10 miles/16 km), and fastest, approaching 10,000 feet per second (3,050 m/s, Mach 9), high speed test track.
The 49th Wing – host wing at Holloman Air Force Base – supports national security objectives by deploying worldwide to support peacetime and wartime contingencies. The wing provides combat-ready Airmen, and trains General Atomics MQ-1 Predator and General Atomics MQ-9 Reaper pilots (including all British Reaper pilots), sensor operators and F-16 Fighting Falcon pilots. Additionally, the wing delivers Air Transportable Clinics and Basic Expeditionary Airfield Resources while providing support to more than 17,000 military and civilian personnel to include German Air Force Flying Training center operations. The wing has a proud history of service in World War II, Korea, Southeast Asia, Southwest Asia and NATO-led Operation Allied Force.