DOT Drug Testing Wisconsin
DOT Drug Testing Wisconsin is provided by DOT Drug Testing USA for DOT required drug testing and alcohol testing at testing centers throughout the State of Wisconsin in compliance with Part 40 of the Department of Transportation's drug and alcohol compliance program. DOT drug testing Wisconsin centers are located within minutes of your home or office and same day service is available in most cities.
In addition, to our DOT drug testing Wisconsin services, DOT Drug Testing USA offers a DOT required random testing/consortium program, DOT supervisor training and DOT written drug policy.
To schedule a DOT drug test in the State of Wisconsin or join the DOT random testing/consortium program, Call (800) 579-8083.
DOT drug testing Wisconsin locations provide DOT pre-employment, random, post-accident, reasonable suspicion and return to duty testing.
If you are a CDL/Single operator or a small trucking company, Heath Screenings USA has a complete DOT complete compliance package which includes all the requirements to comply with part 40. Call DOT Drug Testing USA for details.
On the road and need a DOT drug or alcohol test? No worries!, Call DOT Drug Testing USA  and we can schedule your test at one of our many DOT drug testing locations throughout the State of Wisconsin. (800) 579-8083. 
All DOT Drug Testing USA DOT drug testing Wisconsin centers utilize SAMHSA Certified laboratories and licensed Medical Review Officers as required by DOT regulations.
The U.S Department of Transportation (DOT) requires that all DOT regulated "safety sensitive" employees have on file a negative DOT pre-employment drug test result and be a member of a DOT approved random selection consortium.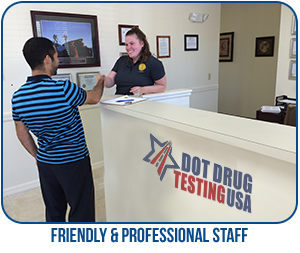 In addition, if a DOT regulated company has more than one "safety sensitive" employee, the employer must also have a written DOT drug and alcohol policy and an on-site supervisor must have completed supervisor training for reasonable suspicion of illegal drug use or impairment.
To be compliant with DOT regulations, a company's DOT drug and alcohol testing program must have the following components.
| | |
| --- | --- |
| | |
| Written Drug & Alcohol Policy | |
| | Designated Employer Representative |
| Substance Abuse Referral (SAP) | Federal Chain of Custody Forms |
| | |
The Department of Transportation (DOT) has specific drug and alcohol testing requirements for the following governmental agencies and DOT Drug Testing USA provides testing for:
| | |
| --- | --- |
| Federal Motor Carrier Safety Administration (FMCSA) | United States Coast Guard (USCG) |
| Federal Aviation Administration (FAA) | Pipeline and Hazardous Materials Safety Administration (PHMSA) |
| Federal Transit Administration (FTA) | Federal Railroad Administration (FRA) |
DOT regulated companies with multiple safety sensitive employees must also have an employee within the company who is assigned as the "designated employer representative" (DER).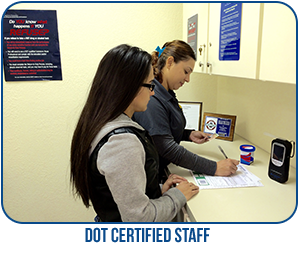 This is the person responsible for removing any DOT "safety sensitive" employee who is covered by 49 CFR Part 40 from performing a DOT safety sensitive position when a positive drug or alcohol test result has occurred or an employee has refused to take a required DOT test.
If you have recently become a DOT regulated company, within the next 18 months the Department of Transportation (DOT) will conduct a "new entrant" inspection to ensure that you are in compliance with all DOT regulations including the drug and alcohol testing requirements. If you are currently a DOT regulated company you are subject to regular inspections to ensure compliance.
DOT Testing and Non-DOT Testing by Employers
DOT Regulated employers may conduct additional drug testing separate from the required 5-Panel Urine Drug Test as required by Part 40. As an example, a DOT Regulated employer may have a company policy which requires a 10-Panel Drug Test, however, the DOT 5-Panel Test still is required in accordance with Part 40 and must be conducted separate from any other internal company drug policy requirements. Below is certain information regarding DOT Regulated companies and Non-DOT drug testing.
§ 40.13 How do DOT drug and alcohol tests relate to non-DOT tests? (a) DOT tests must be completely separate from non-DOT tests in all respects. (b) DOT tests must take priority and must be conducted and completed before a non-DOT test is begun. For example, you must discard any excess urine left over from a DOT test and collect a separate void for the subsequent nonDOT test. (c) Except as provided in paragraph (d) of this section, you must not perform any tests on DOT urine or breath specimens other than those specifically authorized by this part or DOT agency regulations. For example, you may not test a DOT urine specimen for additional drugs, and a laboratory is prohibited from making a DOT urine specimen available for a DNA test or other types of specimen identity testing. (d) The single exception to paragraph (c) of this section is when a DOT drug test collection is conducted as part of a physical examination required by DOT agency regulations. It is permissible to conduct required medical tests related to this physical examination (e.g., for glucose) on any urine remaining in the collection container after the drug test urine specimens have been sealed into the specimen bottles. (e) No one is permitted to change or disregard the results of DOT tests based on the results of non-DOT tests. For example, as an employer you must not disregard a verified positive DOT drug test result because the employee presents a negative test result from a blood or urine specimen collected by the employee's physician or a DNA test result purporting to question the identity of the DOT specimen. (f) As an employer, you must not use the CCF or the ATF in your non-DOT drug and alcohol testing programs. This prohibition includes the use of the DOT forms with references to DOT programs and agencies crossed out. You also must always use the CCF and ATF for all your DOT-mandated drug and alcohol tests.
Avoid DOT fines and penalties, be complaint with all DOT drug and alcohol testing regulations!
DOT Drug Testing USA can assist small, medium and large DOT companies in complying with all requirements of 49 CFR Part 40. Call our DOT drug testing Wisconsin centers Today!
Become DOT Compliant Today!
DOT Drug Testing USA 
(800)579-8083
Did you Know?
Wisconsin is a U.S. state located in the north-central United States, in the Midwest and Great Lakes regions. It is bordered by Minnesota to the west, Iowa to the southwest, Illinois to the south, Lake Michigan to the east, Michigan to the northeast, and Lake Superior to the north. Wisconsin is the 23rd largest state by total area and the 20th most populous. The state capital is Madison, and its largest city is Milwaukee, which is located on the western shore of Lake Michigan. The state is divided into 72 counties. Wisconsin's geography is diverse, with the Northern Highland and Western Upland along with a part of the Central Plain occupying the western part of the state and lowlands stretching to the shore of Lake Michigan. Wisconsin is second to Michigan in the length of its Great Lakes coastline. Wisconsin is known as "America's Dairyland" because it is one of the nation's leading dairy producers, particularly famous for cheese. Manufacturing, especially paper products, information technology (IT), and tourism are also major contributors to the state's economy. Wisconsin is bordered by the Montreal River; Lake Superior and Michigan to the north; by Lake Michigan to the east; by Illinois to the south; and by Iowa to the southwest and Minnesota to the northwest. A border dispute with Michigan was settled by two cases, both Wisconsin v. Michigan, in 1934 and 1935. The state's boundaries include the Mississippi River and St. Croix River in the west, and the Menominee River in the northeast.
With its location between the Great Lakes and the Mississippi River, Wisconsin is home to a wide variety of geographical features. The state is divided into five distinct regions. In the north, the Lake Superior Lowland occupies a belt of land along Lake Superior. Just to the south, the Northern Highland has massive mixed hardwood and coniferous forests including the 1,500,000 acres (6,100 km2) Chequamegon-Nicolet National Forest, as well as thousands of glacial lakes, and the state's highest point, Timms Hill. In the middle of the state, the Central Plain has some unique sandstone formations like the Dells of the Wisconsin River in addition to rich farmland. The Eastern Ridges and Lowlands region in the southeast is home to many of Wisconsin's largest cities. The ridges include the Niagara Escarpment that stretches from New York, the Black River Escarpment and the Magnesian Escarpment. The bedrock of the Niagara Escarpment is dolomite, while the two shorter ridges have limestone bedrock. In the southwest, the Western Upland is a rugged landscape with a mix of forest and farmland, including many bluffs on the Mississippi River. This region is part of the Driftless Area, which also includes portions of Iowa, Illinois, and Minnesota. This area was not covered by glaciers during the most recent ice age, the Wisconsin Glaciation. Overall, 46% of Wisconsin's land area is covered by forest. Langlade County has a soil rarely found outside of the county called Antigo Silt Loam.
Wisconsin has been home to a wide variety of cultures over the past 12,000 years. The first people arrived around 10,000 BCE during the Wisconsin Glaciation. These early inhabitants, called Paleo-Indians, hunted now-extinct ice age animals such as by the Boaz mastodon, a prehistoric mastodon skeleton unearthed along with spear points in southwest Wisconsin. After the ice age ended around 8000 BCE, people in the subsequent Archaic period lived by hunting, fishing, and gathering food from wild plants. Agricultural societies emerged gradually over the Woodland period between 1000 BCE to 1000 CE. Toward the end of this period, Wisconsin was the heartland of the "Effigy Mound culture", which built thousands of animal-shaped mounds across the landscape. Later, between 1000 and 1500 CE, the Mississippian and Oneota cultures built substantial settlements including the fortified village at Aztalan in southeast Wisconsin.[17] The Oneota may be the ancestors of the modern Ioway and Ho-Chunk tribes who shared the Wisconsin region with the Menominee at the time of European contact.[18] Other American Indian groups living in Wisconsin when Europeans first settled included the Ojibwa, Sauk, Fox, Kickapoo, and Pottawatomie, who migrated to Wisconsin from the east between 1500 and 1700.